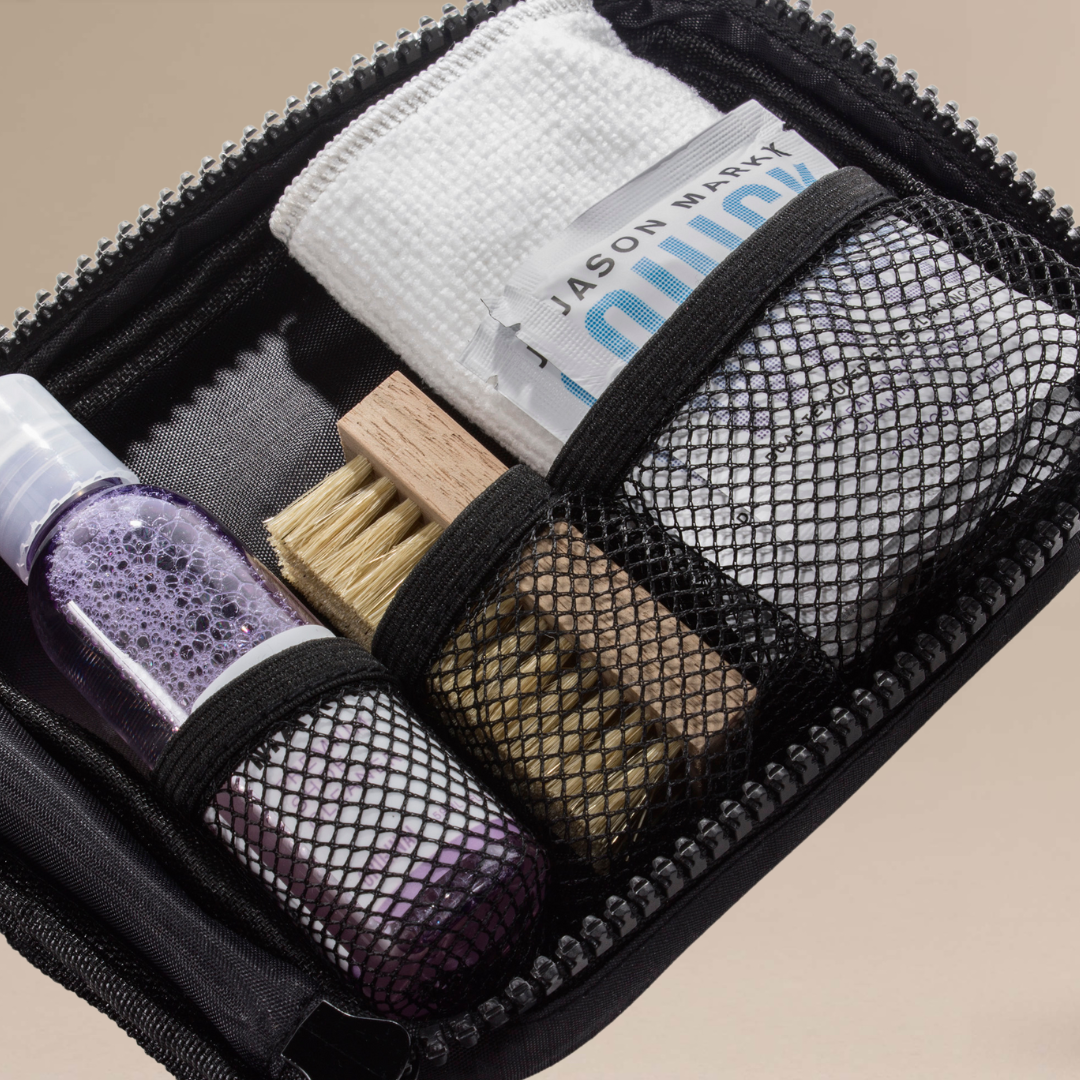 Jason Markk Travel Kit
---
Jason Markk Travel Kit
Take Care wherever you go. Our Travel Kit has the essentials to help clean and care while you roam packaged in a durable nylon ripstop pouch. Our Premium Deep Cleaning Solution paired with our Premium Cleaning Brush provides a powerful clean that's safe for all materials. Finish up with a wipe down from our extremely-absorbent, quick-drying Premium Microfiber Towel. And when you're stepping out of the hotel room or tent, our individually packaged Quick Wipe makes it convenient to care on the go.

Included in Kit:
1x 2oz. Premium Deep Cleaning Solution
The cleaning solution that cares for all. This formula effectively lifts and removes dirt while natural conditioning oils care and extend the life of the material. Cleans up to 50 pairs of shoes.
1x Premium Cleaning Brush
Don't worry about it, seriously. Our Premium Brush is gentle enough for delicate materials that will give you confidence to clean any type of material! Crafted from soft hog's hair bristles and walnut wood.
3x Quick Wipes
Your ideal companion for convenient, on-the-go clean ups. Our unique dual-textured, raised dot technology caters to both the gentle spills and those stubborn stains.
1x Microfiber Towel
A faster and gentler way to dry. Our Premium Microfiber Towel absorbs up to 7 times its weight in water making it highly absorbent and quick-drying. Featuring millions of microscopic microfiber hooks, this cloth is able to capture dirt and dust for a lint-free finish.
*NOTE: We do not recommend cleaning unsealed, painted leather. Use extra care when cleaning dyed suede as its color is likely to bleed with any contact with water. The Jason Markk Premium Cleaning Brush is recommended for cleaning delicate materials such as premium leather, suede or cotton mesh.
Shipping
You will receive your order within 1-4 business days depending on destination. Orders shipped outside of Europe will be recieved within 3-8 business days.

Pick Up In Store
Any item can be ordered with FREE pick up our stores in Göteborg or Stockholm. This will take 1-5 business days depending on which store the item(s) you order are in stock.
Uncertain about your purchase? Relax! You always have 14 days to return any online order. Online orders may be returned instore for free.

Read more about it here: Return Policy



All our items are guaranteed to be 100% authentic.
Do you have questions about this product? Contact us here! Don't forget to add the name of the product.